Give Liberty a Hand 2021: MIRA's Virtual Gala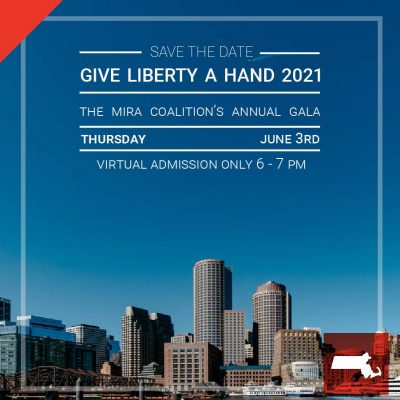 Give Liberty a Hand is MIRA's biggest fundraiser of the year and our celebration of champions for immigrants in our Commonwealth – leaders in government, business and advocacy who "give liberty a hand" by working to advance the rights and integration of immigrants and refugees.
As with last year, we'll be going virtual, with an online celebration and recognition of our supporters, our communities, and our constituents, who have continued to work for equity and justice throughout the COVID-19 pandemic.
Join us for a beautiful event, and please contribute generously! Immigrant communities have been hit very hard by COVID-19, both physically and economically, and MIRA is working tirelessly to ensure an equitable and inclusive COVID-19 response; support our members with multilingual resources; and address the systemic issues that make our communities so vulnerable.
Our annual gala provides crucial core funding for MIRA, enabling us to respond quickly and effectively to our communities' needs.
We look forward to sharing this celebration with you!
MIRA's 2021 Sponsorship is an opportunity to show your support of immigrant communities at all MIRA events throughout the year. Learn more about sponsorship opportunities here.