Immigrants' Day at the State House 2020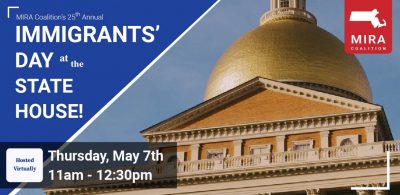 Immigrants' Day is one of MIRA's proudest traditions. Every spring, we bring hundreds of immigrants and refugees to the State House to hear from public officials and advocate for legislation and budget items that are priorities to our communities.
This year, because of COVID-19, we're going virtual, with a ~45-minute speaking program with built-in digital advocacy opportunities, followed by 45-minute regional "roundtables" with legislators co-hosted by MIRA member organizations.
We'll focus on longstanding priorities, but also advocate for an equitable and inclusive COVID-19 response, highlighting urgent needs (and pre-existing issues that made our communities more vulnerable).
For Zoom security and logistics, registration will be required.
If you're a MIRA member organization or one of the dozens of partners who bring groups every year, please fill out the form below! We want to know your advocacy priorities and invite you to play as active a role as you're up for: from helping us set the agenda, to ensuring that lots of immigrant voices are at the virtual table, to co-hosting a regional roundtable.