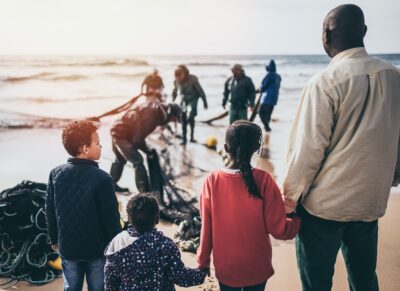 BOSTON – The State Department has announced that only 15,000 refugees will be allowed to resettle in the U.S. in the 2021 fiscal year that begins today, a record-low cap for a refugee resettlement program that is already in tatters after nearly four years of hostile policies.
For fiscal 2020, the Trump administration had capped refugee admissions at 18,000, but State Department data a
s of Sept. 28 show only 10,911 refugees were actually resettled, including 274 in Massachusetts. In fiscal 2019, Massachusetts had welcomed 516 refugees, itself a sharp drop from 1,734 in fiscal 2016, the last full year of the Obama administration, when the cap was 85,000.
Eva A. Millona, president and CEO of the MIRA Coalition, which includes several resettlement agencies and service providers working with refugees, expressed deep concern about the new cap:
"This is the worst betrayal yet of America's history as a nation of refuge," Millona said. "As the State Department's own press release noted, there are nearly 80 million forcibly displaced people right now around the world. For decades, the U.S. has been by far the most important resettlement destination for refugees who couldn't safely return home. To abdicate this crucial responsibility at a time of such immense need is simply unconscionable."
The reduced cap also has severe implications for Massachusetts-based resettlement agencies, which have been forced to lay off staff and scramble to find new revenue sources to survive as their caseloads drop year after year. Arrivals from Muslim-majority countries are particularly low.
"There are 26 million refugees in the world, and 120,000 of them are already approved for admission to the U.S." said Jeffrey D. Thielman, president and CEO of the International Institute of New England, who called the new refugee cap "a travesty."
"Many of those hoping to come are the loved ones of refugees who are here already and are often on the front lines of the pandemic," Thielman added. "The message the administration is sending to them is 'you don't count, and we don't care about you. This decision means that many refugees already living in Massachusetts and New Hampshire will go yet another year without seeing their children, parents, spouse, and other family members, and it ignores our nation's long history of welcoming persecuted people."
The State Department claimed the 15,000 cap reflects "the Administration's continuing commitment to prioritize the safety and well-being of Americans, especially in light of the ongoing COVID-19 pandemic." Yet refugees are not only carefully vetted for security concerns; they also undergo close medical examinations before they are allowed to travel to the U.S.
"This new cap is the latest in a barrage of policies designed to keep the world's most vulnerable people from finding safety in America," added Millona. "We know this administration will keep decimating the Refugee Resettlement Program, as well as the asylum system, for as long as it can. We urge Congress to correct this through legislation. It's time to set a floor, not a cap, for refugee admissions, and to embrace our country's role in providing safe harbor to families in need."