What you need to know about the 'public charge' rule
UPDATE [SEPTEMBER 8, 2022] – The Biden administration has published final regulations on public charge. These regulations largely codify the  guidance that had previously been in place since 1999 and that was restored following the repeal of the Trump rule in 2021.  This new regulation will go into effect on December 23, 2022. Until then, the 1999 guidance will continue to be in effect. Find an updated factsheet on the new rule here, and you can read more about the background of the rule and the 1999 guidance below!
Importantly, under the new regulation (and under the 1999 guidance now in effect) the only benefits immigration will consider as part of the public charge analysis are cash assistance for income maintenance and long-term nursing home care at government expense. We have a created a list of "Safe Benefits" – the many benefits in Massachusetts that will not impact a public charge analysis. We are continuing to add to this list, so please send us your questions and suggestions!
Background:
In March 2021, the Biden administration announced that the 1999 guidance on public charge (the policy that was in place before the 2019 public charge rule) would again be in effect.
Read our March 2021 statement in response to the Biden's administration restoration of the 1999 guidance.
Under the 1999 public charge guidance, it is safe for immigrants and their families to access health, nutrition, and housing programs for which they are eligible. 
You can find more information and materials about public charge on the Protecting Immigrant Families website or by consulting the City of Boston's flyer on public charge below.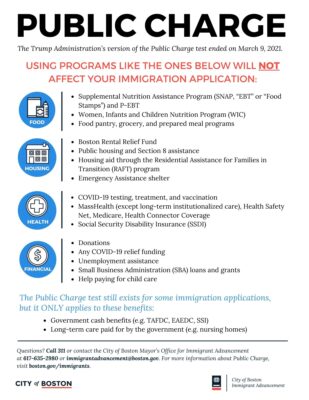 Remember! There will be NO immigration consequences for seeking COVID-19 testing, treatment, or vaccination. If you or a loved one are sick or know you've been exposed to the coronavirus, don't hesitate to get tested and treated, regardless of your immigration status or insurance coverage. MIRA has developed an FAQ about the vaccine specifically for immigrant and refugee families available in English, Spanish, Portuguese, Simplified Chinese, Haitian Creole, and Vietnamese.