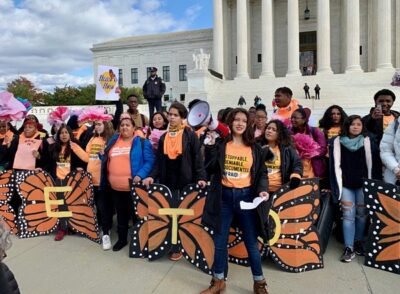 BOSTON – Today the U.S. Supreme Court ruled, in a 5–4 decision, that the Trump administration's rescission of Deferred Action for Childhood Arrivals (DACA) was "arbitrary and capricious" and thus must be overturned.
Eva A. Millona, president and CEO of the MIRA Coalition, has the following statement:
"This is a huge victory, and we're thrilled that Dreamers, who have risked so much to secure their place in America, can have some peace of mind. We know how anxiously they had been awaiting this decision. The human toll of three years of uncertainty and fear has been enormous. DACA recipients deserve much better.
"This is also a victory for immigrants more broadly. The Trump administration has tried to assert near-absolute power over immigration, and today the Supreme Court made it clear that even if the president has the legal authority to change immigration policies, he must do so for legitimate, well-justified reasons.
"In that context, we must stress that Dreamers are still vulnerable. The Trump administration could still try again, using a different rationale, and wreak more havoc. This is why we feel strongly that Congress needs to act. Dreamers across the U.S. have spent years telling their stories and advocating for permanent protection and a path to citizenship. Polls show their fellow Americans overwhelmingly support them.
"A year ago, the House approved the Dream and Promise Act, which would protect not only active DACA recipients – about 649,000 nationwide and 5,600 in Massachusetts – but millions more who had not enrolled or were ineligible. The Senate needs to pass this bill. It's time to stop letting young immigrants be used as political pawns."
MIRA provides free legal assistance with DACA renewals and can connect applicants with resources to help cover the $495 fee. We encourage all DACA recipients who are eligible to renew – even those whose status has lapsed – to apply for renewal as soon as possible, to protect themselves from deportation and avail themselves of all the benefits of DACA, including work permits.
MIRA also calls on the U.S. Department of Homeland Security (DHS) to promptly update DACA information on its website, especially for those who are eligible for DACA but had not previously applied, and had been barred from doing so since September 2017.
For immigrants who became eligible for DACA after September 2017, or who were previously eligible but had not applied, we recommend seeking advice from an immigration attorney. There are many advantages to having DACA, but there are also risks in sharing personal information that need to be weighed carefully.
Finally, we want to stress that we all have all role to play in supporting Dreamers. We urge individual donors and philanthropies to support DACA recipients by contributing to DACA renewal funds (including MIRA's own), and we urge elected officials and all citizens to advocate with the U.S. Senate to ensure passage of the Dream and Promise Act or similar legislation.
► Support MIRA's DACA Renewal Fund
► Learn more about DACA and MIRA's advocacy for Dreamers
► Watch videos by DACA recipients (on Facebook): Estefany Pineda, Rebecca Negreli and Bruno Villegas (recorded pre-decision!)
► Media coverage highlights: WBUR News, Radio Boston, Boston Herald, Commonwealth Magazine