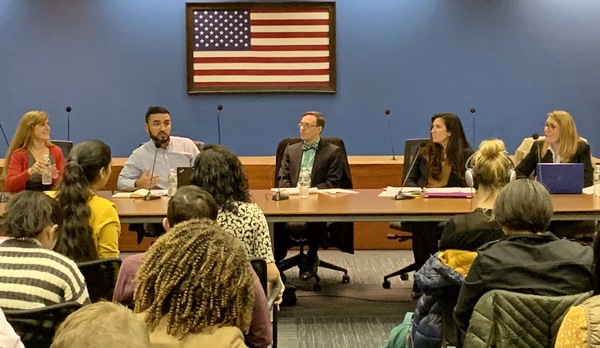 BOSTON – Today, the so-called "public charge" rule went into effect, imposing a wealth test on green card and visa applicants that aims to determine whether, sometime in the future, they might qualify for public benefits.
For three years now, expectation of this rule – and reports of what it might entail – have caused fear and confusion in immigrant communities, leading some to believe they need to disenroll from public programs that they or their children are entitled to.
The rule, as approved by the U.S. Department of Homeland Security, is much narrower in scope than initially proposed, but it could still have a major impact, because a large share of immigrants are poor or working class. Indeed, a national study found that 69% of recent green card recipients had at least one factor that will now be weighed negatively by immigration officers.
Although the U.S. Supreme Court has lifted all remaining injunctions blocking the rule, litigation continues in courts across the country. The most immediate priority for advocates, however, is to ensure that immigrants have the knowledge they need to make choices for their families.
As part of a nationwide "teach-in" day organized by the Protecting Immigrant Families campaign, MIRA and its PIF co-leaders in Massachusetts – Health Care for All, Health Law Advocates and the Mass. Law Reform Institute – organized a discussion with more than 60 immigrant leaders and service providers, hosted by the Boston Mayor's Office for Immigrant Advancement.
"Everyone in this room is an expert in working with immigrants, in understanding what immigrant communities need and the specific needs of different populations," said Marion Davis, MIRA director of communications. Along with providing legal and messaging guidance, she stressed, "we want to get wisdom from you, to make sure that the PIF campaign does the best job possible."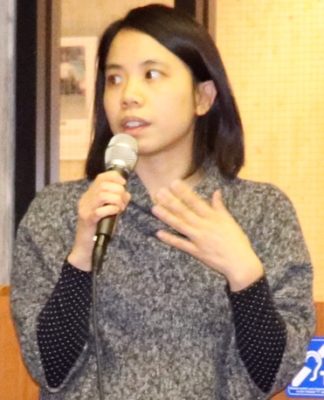 Marty Martinez, chief of the Mayor's Office of Health and Human Services, encouraged advocates to "keep pushing the city" to do whatever it takes to inform and protect immigrants. To immigrants, he said, "the message we're trying to send is, this is your community as immigrants, and we're going to make sure that we fight every federal challenge that comes, while at the same time educating our neighbors… so we can spread facts and get the right information on the ground."
Mario Paredes, staff attorney at MLRI, explained the basics of the "public charge" test. In short, it aims to determine whether, based on an applicant's income, age, health, education, English proficiency, and overall financial situation, they are likely to need public benefits at some point.
The test applies only to people seeking a green card or a non-immigrant visa, not those who already have green cards, Paredes stressed. Several categories of applicants are also exempt, including refugees, asylees, U and T visas, and self-petitioners under the Violence Against Women Act.
For those who are subject to the test, past use of benefits is one consideration, Paredes explained, but only a narrow set of benefits, and immigration officers are to consider the "totality of the circumstances." This means having used Medicaid, for example, is not inherently disqualifying – but conversely, a low-income applicant might be rejected even if she's never received benefits.
Based on federal officials' statements, "we were thinking that this rule would be all about benefits before it came out," said Andrew Cohen, supervising attorney at Health Law Advocates. "What we saw with the real text of the rule is that it's much more about penalizing poverty."
That said, the rule does list specific programs that, if used after today, will be counted against an applicant. Given the enormous chilling effect that has had on immigrants, Cohen explained in detail which health programs are exempt, including MassHealth coverage for children under 21 and pregnant women, the Health Safety Net, MassHealth Limited and coverage through the Health Connector. Those happen to be the programs that green card applicants are likeliest to have used, whereas very few would even be eligible for the coverage that would count against them. [ Watch video of Cohen ]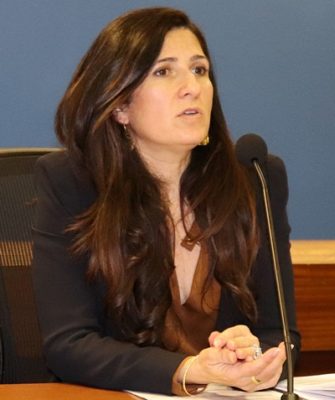 In the discussion after the presentations, speaker after speaker expressed concern that immigrants don't know that those programs are exempt – or that benefits received by their children don't count, either. And while advocates and health care providers can advise them and deter them from dropping out of programs, they can't reach people who simply stop going to the doctor, or quietly withdraw or choose not to sign up for benefits. "There is a lot of misinformation out there," said Bethany Li, of Greater Boston Legal Services.
María González Albuixech, director of communications and immigrant health at Health Care For All, explained how her organization's HelpLine is screening immigrants to determine whether they're subject to the "public charge" test, so it can distinguish those who are "totally safe" – the majority – and those who need to be referred to an immigration lawyer.
She also offered key messages to share with immigrant families: about who is affected, which benefits matter, and that most should keep their benefits without worry.
Mahsa Khanbabai, New England Chapter chair of the American Immigration Lawyers Association, said immigration officers in New England have not even received guidance on the new rule yet, or been trained to apply it.
"The good news is you have time now to help your clients prepare and try to minimize whatever they have in their background that could be looked at as a negative factor," Khanbabai said, adding that lawyers will have to conduct a "deep assessment" of each person's circumstances.
Rev. Dieufort Fleurissaint, of Haitian Americans United, was among several participants who called for more legal support for community members. Many Haitians, he noted, are deeply concerned about the prospects for loved ones applying for visas from abroad. Khanbabai noted that those applicants face some of the biggest challenges, because they have little access to legal experts.
For those hoping to apply for a green card or visa, Khanbabai and others urged extra caution. Don't even think of filling out your own forms without an attorney, Khanbabai said, and don't fall for notarios, who already do enormous damage. Health Care For All has compiled a list of trustworthy legal service providers.