Give Liberty a Hand 2020: MIRA's Virtual Gala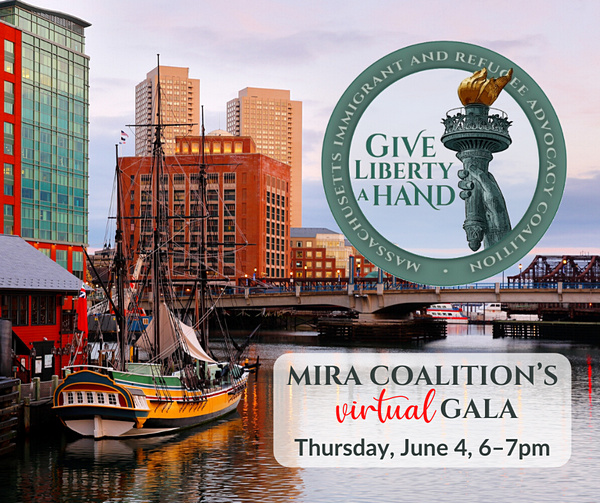 Give Liberty a Hand is MIRA's biggest fundraiser of the year and our celebration of champions for immigrants in our Commonwealth – leaders in government, business and advocacy who "give liberty a hand" by working to advance the rights and integration of immigrants and refugees.
We'd been looking forward to another packed event at the Fairmont Copley Plaza, but due to COVID-19, we're going virtual, with a 60-minute online celebration of our communities' resilience and of the extraordinary MIRA members on the front lines of the COVID-19 response.
Our keynote speaker will be Esther Duflo, a 2019 Nobel Laureate in economics and Abdul Latif Jameel Professor of Poverty Alleviation and Development Economics at the Massachusetts Institute of Technology. Dr. Duflo is one of four honorees, along with Rosalin Acosta, Secretary of Labor and Workforce Development for the Commonwealth of Massachusetts; state Rep. Michael J. Moran, D–18th Suffolk; and Anh Vu Sawyer, executive director of the Southeast Asian Coalition of Central Massachusetts.
Our emcee will be Yusufi S. Vali, director of the Boston Mayor's Office for Immigrant Advancement. We will have music by Marielisa and Mariesther Álvarez, co-founders of the Boston String Academy.
Join us for a beautiful event, and please contribute generously! Immigrant communities have been hit very hard by COVID-19, both physically and economically, and MIRA is working tirelessly to ensure an equitable and inclusive COVID-19 response; support our members with multilingual resources; and address the systemic issues that make our communities so vulnerable.
Our annual gala provides crucial core funding for MIRA, enabling us to respond quickly and effectively to our communities' needs. We will post a ticket sales link very shortly. Click here for sponsorship information (packages range from $500 to $15,000).
We look forward to sharing this celebration with you!