BOSTON – The President has issued a proclamation blocking immigration to the U.S. for 60 days, framing his action as an urgent measure to protect American workers from foreign competition during the COVID-19 crisis and recovery.
MIRA has produced an analysis of the order's main points and its expected impact.
In addition, MIRA Executive Director Eva A. Millona has the following statement: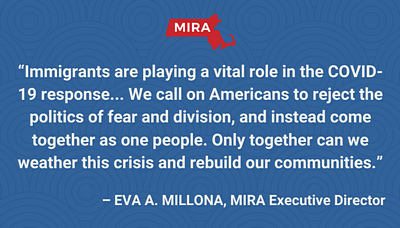 "This order is a political stunt to please the President's base. But though its immediate impact on immigration will be limited, it could cause serious and lasting harm.
"The fact that the order mainly targets family-based migration also shows that it's not about jobs at all – instead, it uses COVID-19 as a pretext to implement immigration restrictions that the president has sought for years. If he seeks to extend it beyond 60 days, it would decimate family-based migration.
"We are also concerned that an upcoming review of non-immigrant visas – including H-1B visas widely used by biomedical and tech employers, H-2B visas widely used in our tourism industry, and visas for students and those coming for training and exchange programs – could lead to cuts that directly harm Massachusetts' economy.
"Immigrants are playing a vital role in the COVID-19 response, in 'essential' jobs from health care, to cleaning, transportation, and food production and distribution. We call on Americans to reject the politics of fear and division, and instead come together as one people. Only together can we weather this crisis and rebuild our communities."