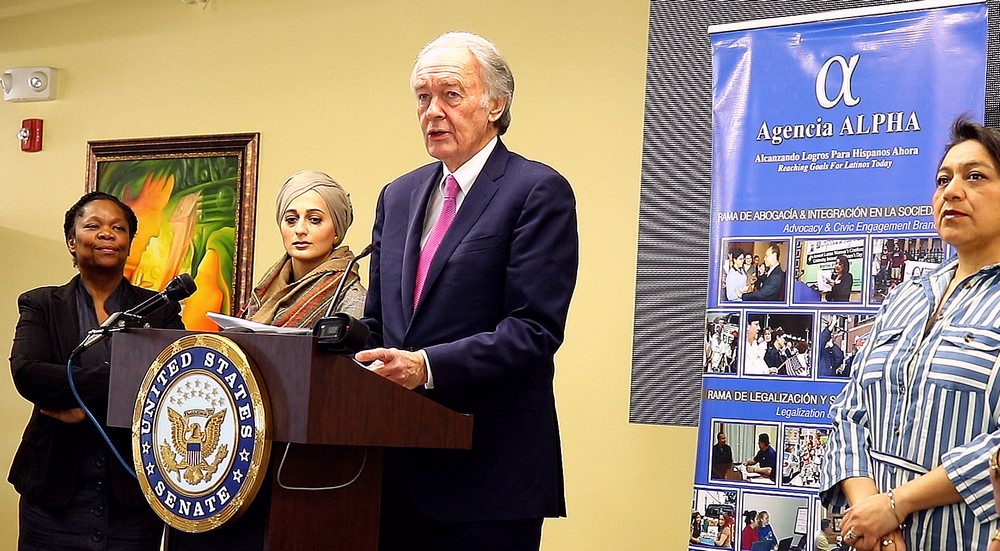 BOSTON – Dozens of advocates and leaders of immigrant- and refugee-serving organizations joined U.S. Senator Edward J. Markey at Agencia ALPHA today to celebrate the introduction of the New Deal for New Americans in the U.S. Senate.
The bill, which is strongly supported by the National Partnership for New Americans (NPNA), co-chaired by MIRA Executive Director Eva A. Millona, was introduced in the House last October and has 39 cosponsors so far, including U.S. Reps. Ayanna Pressley, James McGovern and Joseph P. Kennedy III.
It would provide federal leadership to increase access to citizenship; support local organizations that welcome newcomers; expand high-quality workforce development and English-language programs; increase access to legal counsel; and embrace America's global role as a refuge.
To give these issues greater prominence and institutional support, it would also create a National Office on New Americans to lead a federal inclusion and integration strategy coordinated with state and local governments and community stakeholders.
"We know immigrant families want the opportunity to contribute to their communities and to provide for themselves and their loved ones," Markey said. "The New Deal for New Americans Act provides that opportunity not just to survive in the United States, but to fully thrive. It is a clear vision of what a humane and welcoming immigration system looks like, including comprehensive support for legal, economic, and language needs."
Millona noted that immigration policy debates today have a very different focus, with some questioning whether most immigrants or refugees even have a place in this country. But the American people, and the people of Massachusetts, have come out in force to defend our identity as a nation of immigrants.
"This bill embodies a vision of America that millions of us already embrace: a land of opportunity where people from around the world can not only find safe harbor, but truly thrive," Millona said. "Immigrants and refugees are vital parts of our communities and make enormous contributions to our economy and our society. This bill sends a strong message that we value and welcome New Americans, and lays out a proactive policy agenda that will benefit our entire nation by enabling global talent to thrive here."
Markey chose to announce the new legislation at Agencia ALPHA, a faith-based nonprofit led by two Guatemalan women that for almost two decades has helped immigrants thrive in the U.S. by providing legal services, training leaders, and organizing the community.
"This bill creates the programs and structures that would allow us to prove to this nation that we, immigrants and refugees, are human beings full of capacities, skills and values that this nation so desperately needs to move forward," said Damaris Velásquez, co-founder and director of programs at ALPHA. "We are brave, hard-working, good parents, good neighbors, taxpayers, people of faith – we make America strong, and this bill would help us contribute even more."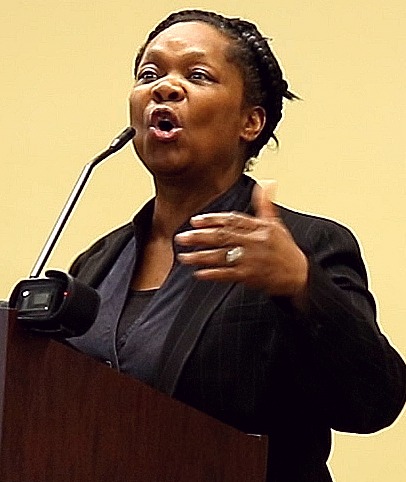 Geralde Gabeau, executive director of the Immigrants Family Services Institute (IFSI-USA), said the investments envisioned by the New Deal for New Americans are good for the whole country, as they would ensure that people's talents and skills are used to their fullest.
"Immigrant integration is just the smart thing to do, because it brings great returns on investment," Gabeau said. "Why would I have a math teacher driving a cab? …If I have a skill set that I know I need, I will go and invest in that person, so I can use those skills, so students in my community have a better chance at a good education."
A key provision of the bill would be to eliminate the annual ceiling for refugee admissions, which has dropped precipitously under the Trump administration, to just 18,000 for fiscal 2020, and replace it with a floor. The minimum annual admissions would be 110,000 – the same as the ceiling set by former President Obama for fiscal 2017 – to recognize America's role as a refuge for people from around the world.
Basma Alawee, who came to the U.S. as a refugee from Iraq and is now an organizer for We Are All America based at the Florida Immigrant Coalition, shared her own family's story of becoming Americans, and highlighted the importance of making integration easier for all.
"Instead of making the process of citizenship more expensive and reducing refugee admissions, we should embrace our diversity and support vulnerable people struggling to engage in the social, economic and civic life of America," Alawee said. "Congress must pass this bill to ensure our country's future is bright for all."
Read more about the New Deal for New Americans Act ► 
Watch a video of the entire event on Facebook ►